Low-Income Independent Senior Living
A Welcoming & Affordable option for Senior Citizens in Kansas
Pleasant View is proud to provide a modern and well-cared for living community for seniors looking for an affordable place to call home with 12 income-based rental apartments. Enjoy living on our beautiful campus in the heart of Kansas in a place that provides for life's necessities and offers many social and creative activities.
Pleasant View East View Villa
Pleasant View Home offers multiple low-income senior living duplexes. East View Villa is a section of our independent living community that provides a warm and comfortable home at very affordable options. For more information on the low-income financing, availability and options of East View Villa, call us at (620) 585-6411.
Independent Senior Living Amenities
Maintenance crew to assist with daily tasks
Scheduled meals & activities available
Laundry on site
Access to the Pleasant View Library
Apartment call lights for emergencies
Pets are welcome
Access to our on-site beauty shop, coffee shop, guest rooms & community living spaces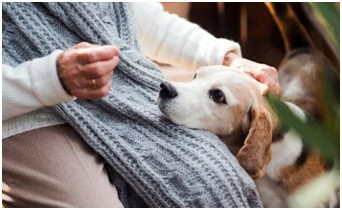 Pets are Welcome!
Feel relieved in knowing that moving into independent living doesn't mean that you will have to leave your beloved pet behind. East View Villa homes can have pets! We offer a welcome environment for animals with our campus being surrounded by a courtyard and neighborhood ideal for dog walks.
Why Choose Pleasant View Independent Living?
Choosing an Independent Living community that is located alongside Pleasant View's nursing home comes with a great number of benefits. Not only do residents have access to a great number of living amenities, but they are also within reach of our large and highly trained staff of skilled nursing and care professionals. Pleasant View Home has been providing expert, person-centered care to elderly Kansans since 1947 and is rated as one of Kansas' top skilled nursing facilities. Know that expert care and quick attention to residents' needs are within reach when you choose Pleasant View Estates as your home.
Services at Pleasant View Home in Inman include:
Complete and comprehensive medical services
Pleasant View Estates
In addition to the low-income housing available at East View Villa, our independent living community also includes Pleasant View Estates. Pleasant View Estates is a community of no-maintenance apartments and duplexes available for senior citizens age 62 and older. Visit our main campus in Inman, Kansas and you will find a large senior living campus. With more than a dozen individual apartments, you can choose a large and private apartment with 1, 2 or 3 bedrooms.
Call today for a tour of our entire independent living community! Call us at (620) 585-6411.