Short Term Rehab and Recovery
If you have experienced a healthcare emergency or major surgery and are not ready to be on your own, Pleasant View Home provides the perfect place to recover in the comforts of home. Our many luxurious amenities include:
Private room with bathroom and closet
Furniture, including a comfortable recliner
Cable TV, telephone and wireless internet
Delicious meals served in your room or in the dining room
Housekeeping and laundry service
State of the art therapy programs
Whirlpool bath
Transportation
Snacks available 24/7
Our program is tailored to your specific needs allowing you to safely recover at your own pace and our highly trained and experienced nursing staff are always available to monitor your medical and personal needs.
Rehabilitation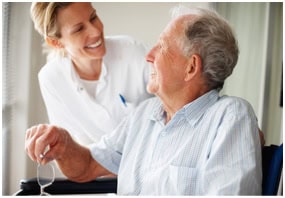 Pleasant View Home rehabilitation services are provided by only the best certified and licensed professionals and consist of a complete on-site rehab gym, relaxation whirlpools, wellness equipment, and top of the line exercise equipment and therapy treatments.
Physical Therapy maximizes function and independence and helps prevent mobility loss by developing programs for healthier and more active lifestyles. Through careful evaluation and planning, individual programs are developed which include:
Therapeutic exercise
Falls prevention
Functional mobility training
Gait training and transfer training
Modalities to address pain, edema, and range of motion needs
Balance retraining
Occupational Therapy focuses on maximizing independence in functional daily living skills. Customized plans and objectives are developed to address not only self-care, but also vocational and leisure goals, including:
Community integration home evaluation and management
Activities of daily living retraining for independence and safety
Splinting and orthotic management
Adaptive equipment recommendations and training
Seating recommendations and wheelchair positioning
Speech Therapy assists in relearning communication through speaking, reading, or writing. It also assists those who have difficulty swallowing or with memory problems. Individualized programs include:
Communication skills
Oral-motor strengthening
Cognitive linguistic retraining
Writing and reading
Augmentative and alternative methods of communication
Dysphagia evaluation and treatment for aspiration and diet education
In most cases, therapy services are covered by Medicare and insurance and our team can explore the payment options for you.
You don't have to be a resident of Pleasant View Home to take advantage of our comprehensive rehabilitation services.
Other Services